Western Australia's leading rural farming news publication Farm Weekly interviewed Alterra Chief Operating and Technical Officer Brett Heather on his experience in delivering quality produce around the world.
As featured in Ripe Magazine's September 2019 edition, Mr Heather has worked with more than 100 producers, procuring fruit from 20 different countries around the world and has joined Alterra to support the company's horticultural investments.
He is also consulting with top Australian fresh fruit and vegetable grower-packer-marketer Costa on its avocado project with Macquarie Bank that has seen more than $100 million of avocado farms purchased on Australia's east coast.
Alterra has secured a 300 hectare avocado property on Australia's west coast in the premium growing region of Pemberton.
According to Mr Heather, "post-harvest agriculture is a critical piece of a very complicated puzzle".
"Bringing the best quality product to the consumer is achieve through good science and good process within global value chains."
Read the feature here.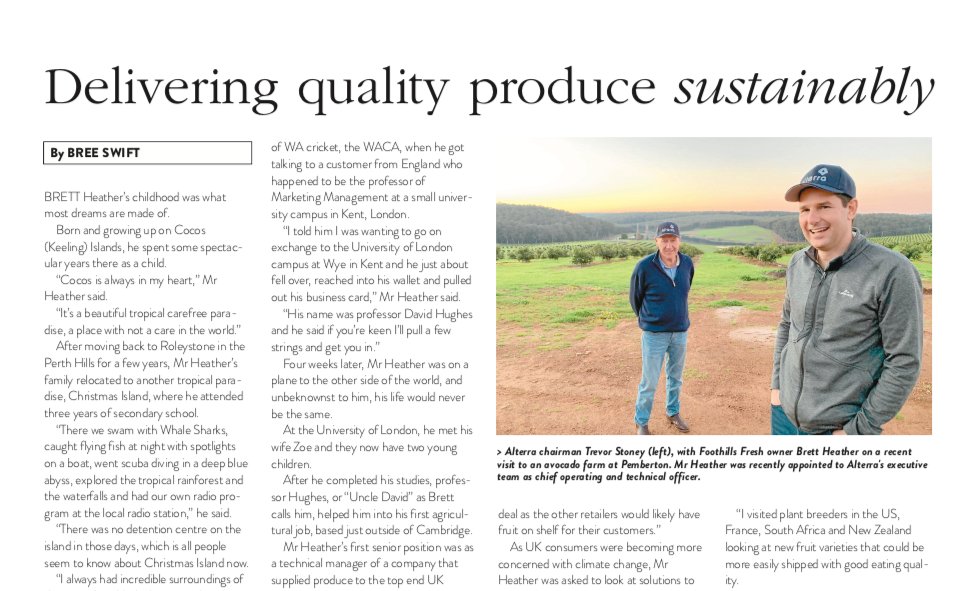 Read the article in Ripe Magazine (page 17 – 18).
---